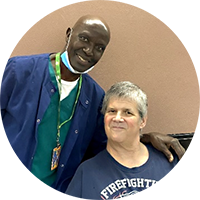 "I had the privilege of staying at Allendale Rehab, and I must say that my experience was truly exceptional. What stood out the most during my stay was the quality of therapy I received. The dedication and expertise of the therapists were unparalleled, and it was evident that they genuinely cared about my progress and well-being. Compared to my previous experiences in other facilities, I found myself much happier at Allendale Rehab. The atmosphere was warm, welcoming, and conducive to healing. The positive energy of the staff was infectious, and it made a significant difference in my overall outlook. I must mention Peter and Calvin, two exceptional aides who played a pivotal role in my recovery journey. Their professionalism, compassion, and attention to detail were truly remarkable. Their support made me feel comfortable and motivated throughout my stay. One striking aspect of Allendale Rehab was the staff's collective happiness and camaraderie. Every team member I encountered greeted me with a smile and a friendly "hi", creating an environment that felt like a supportive community. This positivity further enhanced my rehabilitation experience. Without a doubt, I wholeheartedly recommend Allendale Rehab to everyone seeking top-notch care and a genuinely uplifting environment. My journey to recovery was not only successful, but also enjoyable, thanks to the outstanding therapy and the wonderful staff."
– George Davidson
---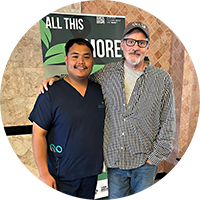 "The staff was truly exceptional, displaying unwavering kindness, helpfulness, and care. Nurse John's dedication stood out in particular. Kim and every team member contributed greatly to the wonderful experience. The rehabilitation program exceeded expectations, creating a warm and inviting atmosphere. "Caring" perfectly encapsulates the essence of their approach, making it an easy recommendation for anyone in need of such services. Sincerely,"
– William Fennelly
---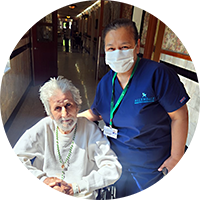 "I came to Allendale Rehabilitation after a fall which tore my left rotator cuff and broke my left hip bone. The therapy really helped me regain my strength. I had a fantastic stay here. The staff treated me well and the people were very nice. Activities were also fun! I would certainly recommend Allendale to others."
– Leonard Timmins
---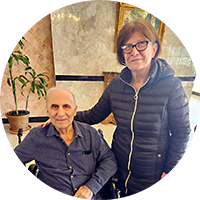 "We really enjoyed our stay here at Allendale Rehabilitation. The nurses were super helpful and quick to respond when we called them. My husband came into the facility unable to walk, and the rehab team here worked with him and now he has regained his mobility. If we ever need a rehab facility again, we will definitely come back.  We recommend Allendale to anyone, Allendale is #1!"
– Jacquelin & Khosrov Stambolian
---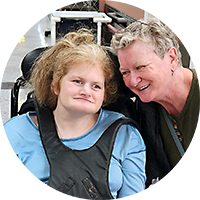 "As parents of a disabled girl, we were nervous about picking a rehabilitation center for our daughter. The staff at Allendale Rehabilitation and Healthcare Center took care of her and did an incredible job. The nurses always listened to what we had to say and kept us involved in the care of our daughter. Everyone in the facility tried so hard to make sure she was always happy and taken care of. On top of that, the place is clean, and the staff is very friendly. The activities were engaging and important for our daughter, she really benefited from them. Dr. Shatkin was amazing as well."
– Pat and Ken Wagner
---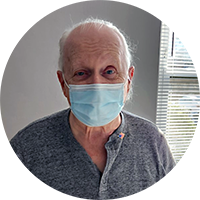 "My experience at Allendale Rehabilitation and Healthcare Center was amazing! Everyone was so nice to me. It's pretty cool to see so many nice people in one place. Everyone attended to all my needs in a caring and timely manner. The rehab would check on me twice to three times a day and it really got me back on track. When I came into the facility I could hardly get dressed and now I'm walking around. I would recommend Allendale Rehabilitation and Healthcare Center to all my friends and family."
– Armand Savaria
---
Allendale helped me feel safe and ready to go home!
They really wanted me to be safe and made me want more therapy. I went from a PEG tube to being able to eat normal food. I realized that exercise and food wasn't so bad! Joon checked me every day and opened my eyes to realize that I really did need to be here.
To Joon, I would like to say "Thank you very very much."
Paul and Samantha in rehab were real good. Brooke, the Director, was instrumental in supporting my journey at the center. Everything here was very good!
– Nancy Notarangelo
---
Above, Above, Above, And Beyond!
Thank you to everyone at Allendale for always going above and beyond. I'm grateful for the nursing team, especially Vita and Peter. When I was down in the dumps, they brought me back up and always reassured me that I would get better. They were my rock. I will always recommend Allendale to anyone. Thank you, thank you!
– Harriet Fishman
---